Since Octocon is online again for a second year, we're taking advantage of being able to have programme participants who haven't been able to make it to an Octocon before – from all over the world, too, from Scotland to Australia, and Brazil by way of Italy!
We sincerely hope we'll be able to welcome them all to a future in-person Octocon too…
Darren Shan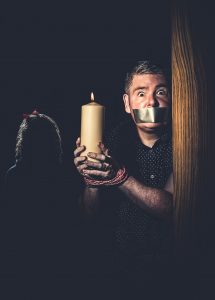 Darren Shan was born in London but has spent most of his life in Limerick in Ireland, where he lives with his wife and children. He has published 57 books for both children and adults, and has sold over 30 million books worldwide, making bestseller charts in the USA, the UK, Ireland, Hungary, Dubai, Japan, Taiwan and elsewhere. He is currently writing the Archibald Lox fantasy series, of which six books have already been published, with the final three due to see print in 2022.
Website: darrenshan.com/ | Twitter: @darrenshan | Facebook: darrenshanverified
Check out Darren's own news post about his Octocon appearance.
Aliette de Bodard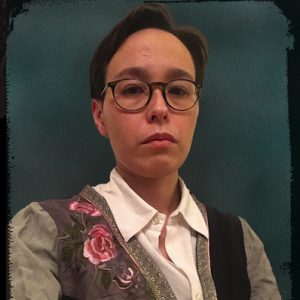 Aliette de Bodard lives and works in Paris. She has won three Nebula Awards, a Locus Award, a British Fantasy Award and four British Science Fiction Association Awards. She was a double Hugo finalist for 2019 (Best Series and Best Novella).
Her most recent book is Fireheart Tiger (Tor.com), a sapphic romantic fantasy inspired by pre colonial Vietnam, where a diplomat princess must decide the fate of her country, and her own. She also wrote Seven of Infinities (Subterranean Press), a space opera where a sentient spaceship and an upright scholar join forces to investigate a murder, and find themselves falling for each other. Other books include Of Dragons, Feasts and Murders, (JABberwocky Literary Agency, Inc.), a fantasy of manners and murders set in an alternate 19th Century Vietnamese court.
Her space opera books include The Tea Master and the Detective (2018 Nebula Award winner, 2018 British Fantasy Award winner, 2019 Hugo Award finalist). Her short story collection Of Wars, and Memories, and Starlight is out from Subterranean Press.
Web: www.aliettedebodard.com | Twitter: @aliettedb | Instagram: @aliettedb
Amie Kaufman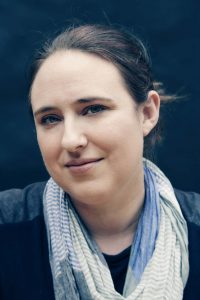 Amie Kaufman is a New York Times, USA Today and internationally bestselling author of science fiction and fantasy. Her multi-award winning work has been translated into nearly thirty languages, and has been described as "a game-changer" (Shelf Awareness), "stylistically mesmerising" (Publishers Weekly) and "out-of-this-world awesome" (Kirkus). Several of her series are currently in development for film and TV. Raised in Australia and occasionally Ireland, Amie has degrees in history, literature, law and conflict resolution, and is currently undertaking a PhD in Creative Writing. She is the host of the podcast Amie Kaufman on Writing. Amie lives by the sea in Melbourne, Australia with her husband, daughter, and rescue dog, and an extremely large personal library.
Twitter: @amiekaufman | Instagram: @amiekaufmanauthor
Laura (El) Lam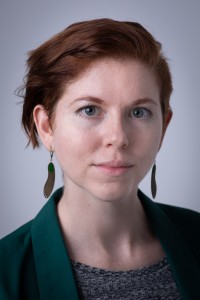 Originally from sunny California, Laura Lam now lives in cloudy Scotland. Lam is a Sunday Times Bestselling author whose work includes the near-future space thriller, Goldilocks, feminist space opera Seven Devils (co-written with Elizabeth May), BBC Radio 2 Book Club section False Hearts, the companion novel Shattered Minds, and the award-winning Micah Grey series: Pantomime, Shadowplay, and Masquerade. Lam's short fiction and essays have appeared in anthologies such as Nasty Women, Solaris Rising 3, Cranky Ladies of History, Scotland in Space, and more. Lam's romance alter ego is Laura Ambrose. Lam lectures part-time at Edinburgh Napier University on the Creative Writing MA.
Web: www.lauralam.co.uk | Twitter: @LR_Lam
Fabio Fernandes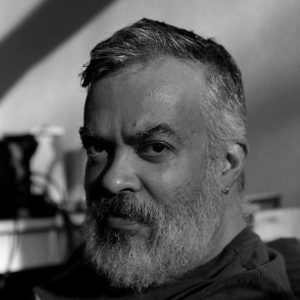 Fabio Fernandes is a Brazilian writer currently based in Italy. He has published several books, among which the novels Os Dias da Peste and Back in the USSR (in Portuguese) and the collection L'Imitatore (in Italian). Also a translator, he is responsible for the translation to
Brazilian Portuguese of several SF novels, including Neuromancer and A Clockwork Orange. His short stories have been published online in Brazil, Portugal, Romania, the UK, New Zealand, and USA, and also in Ann and Jeff VanderMeer's Steampunk II: Steampunk Reloaded, The Apex Book of World SF, Vol 2, Stories for Chip. Co-edited (with Djibril al-Ayad) the postcon anthology We See a Different Frontier, and, with Francesco Verso, the anthology Solarpunk – Come ho imparato ad amare il futuro (How I learned to love the future). Graduate of Clarion West, class of 2013. Formerly slush reader for Hugo Award-winner Clarkesworld Magazine. His first book in English, the collection Love. An Archaeology, was published in March by Luna Press Publishing. A steampunk novella, Under Pressure, will be published by NewCon Press later this year, and a weird SF novel, Love Will Tear Us Apart (in Portuguese) will be published by Uboro Lopes Editora in 2022.
Twitter: @fabiofernandes
Francesco Verso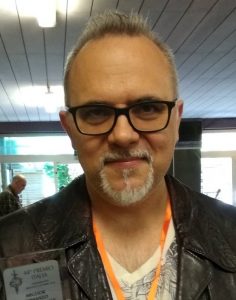 Francesco Verso is a multiple-award Science Fiction writer and editor.
He has published: Antidoti umani, e-Doll, Nexhuman, Bloodbusters and I camminatori (made of The Pulldogs and No/Mad/Land). Nexhuman and Bloodbusters – translated in English by Sally McCorry – have been published in the US by Apex Books, in the UK by Luna press and in China by Bofeng. He also works as editor of Future Fiction, a multicultural project, dedicated to scouting and publishing the best SF in translation from the World, from more than 30 countries and 11 languages with authors like Ian McDonald, Ken Liu, Liu Cixin, Vandana Singh, Xia Jia, Carme Torras, Olivier Paquet and others.& From 2019 he's the Honorary Director of the Fishing Fortress SF Academy of Chongqing (China). In 2020 he co-organized the FutureCon, an online convention with more than 65 guests coming from 20 different countries.
Twitter: @Francesco_Verso